INTRODUCING THE NEW PRO X SERIES
Are you looking for one versatile stove that can handle all of your favorite dishes with ease and precision? We believe one can never own too many two-burner stoves, but if we had to choose just one, the Pro 60X would be at the top of our list. Dare we say that the Pro 60X is the one stove to rule them all! The updated Pro Series houses the same reliable features that you have come to expect from all of our Camp Chef stoves with a bevy of handy new features including an upgraded design to make travel and storage easier than ever. The Pro 60X is a portable powerhouse sure to enhance every outdoor kitchen.
CLASSIC FEATURES
Two 30,000 BTU Burners
The two individually controlled burners allow for better heat modulation and flame control. While the Pro 60X is capable of rivaling a rocket propeller, the precision controls allow you to expertly manage the flame down to a flicker if need be.
Removable Grate
To clean your stove simply remove the grate and scrub to your heart's desire. The removable grate accommodates all 14″ accessories that you may already own or are hoping to add to your outdoor kitchen.
Matchless Ignition
Nothing is worse than attempting to ignite a stove in poor conditions. The integrated matchless ignition system is consistent and reliable so you can feel at ease when you need to get the stove glowing.
Three-Sided Windscreen
Three walls keep the wind at bay so you can ignite and cook without waiting for conditions to change. If you exclusively cook in great weather these walls can be easily removed.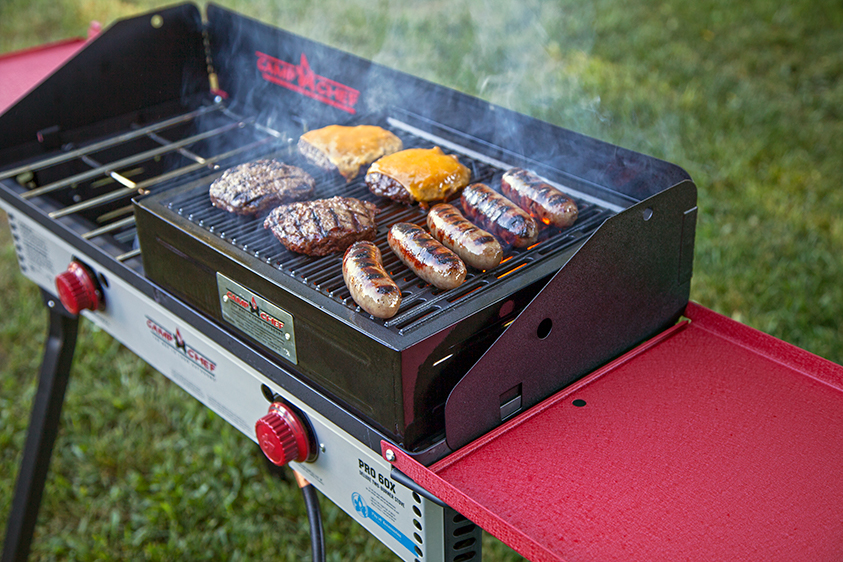 NEW FEATURES
Two Collapsible Side Shelves
Two collapsible side shelves unfold to provide you with a staging area as you cook. When you are all finished cooking, just fold the shelves back up to keep your stove protected during travel and storage. If you want your Pro 60X to be a permanent feature of your patio, just pop down the shelves, and one of our patio covers will slide right over the stove and whatever accessories are on top of it allowing you to keep your stove safe and protected from the elements.

Adjustable Leg Levelers
Level the playing field with the all-terrain accommodating leg levelers built to give you a flat cooking surface on even the most uneven ground. Just unscrew each independent leveler at the bottom of the legs to create a level cooking surface.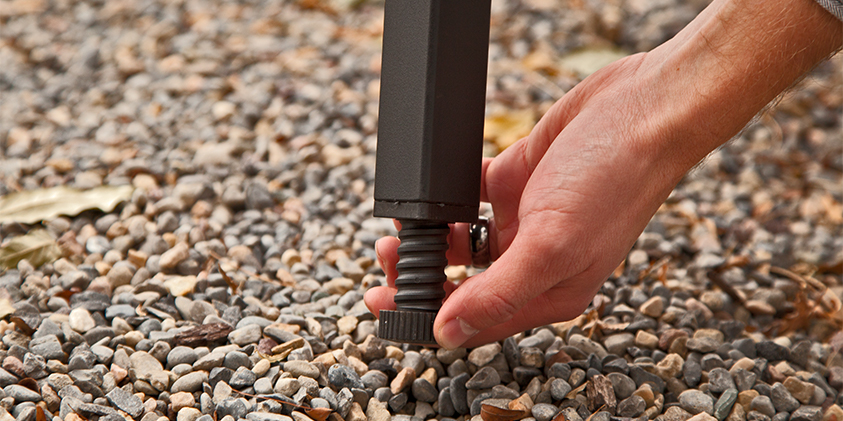 Folding Legs
The addition of new folding legs makes transporting your Pro 60X from patio to tailgate easier than ever. Simply fold up the legs and grab onto the burly steel handle on the side of the stove for easy transport.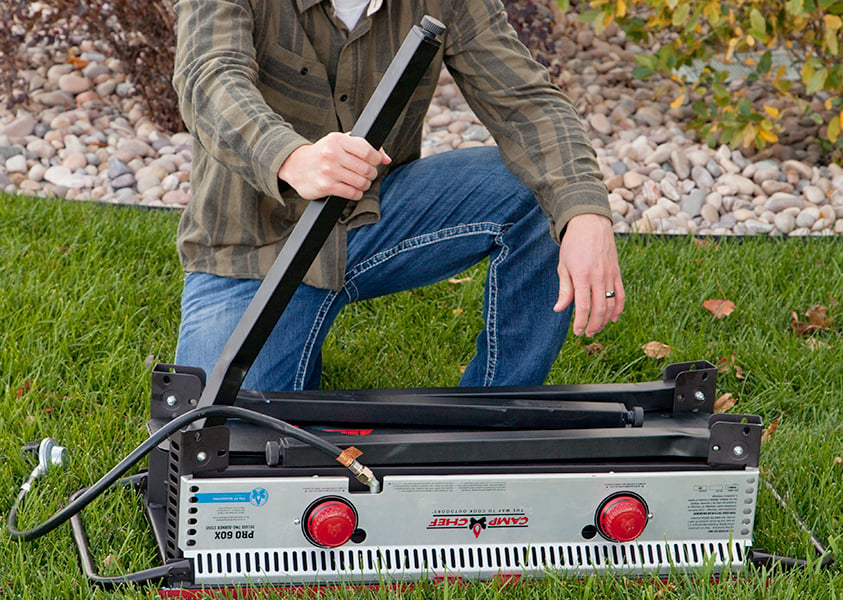 CUSTOMIZE YOUR COOKOUT
Accessories
Mix-and-match from our selection of 14" accessories to create an outdoor kitchen fully tailored to your cooking style. Whether you are hoping to cook sausage on the
Griddle
or bake a pizza in on of our
Outdoor Ovens
, the possibilities are endless with our Pro 60X Two-Burner Stove.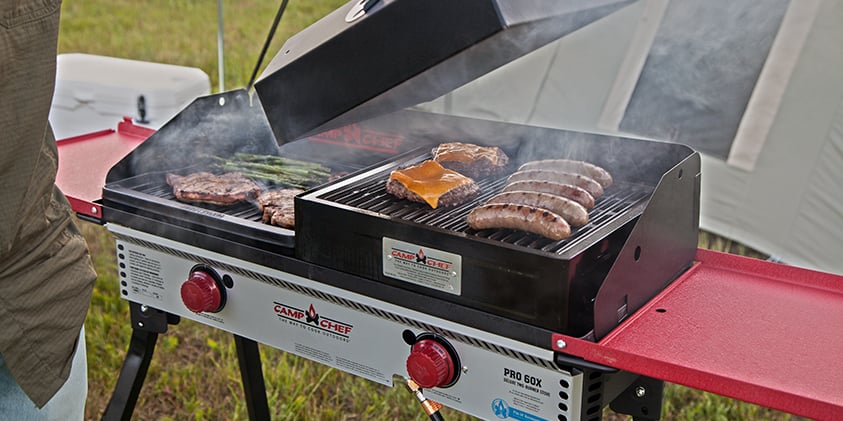 WHAT THE EXPERTS ARE SAYING ABOUT THE PRO 60X
A few of our friends answered some questions about the Pro X series back in February (click
here
to read the full article). We asked them to identify a few of their favorite things about the Pro X series, and this is what they had to say.
Christie Vanover
(Editor and publisher of
Girls Can Grill
) I fell in love with the Pro X Stove right out of the box. It came with so many optional accessories already built in. There is no assembly required. You open the box, pull down the legs, fold out the shelves and get cooking. My favorite features of the new stove are the leg levelers and the individual ignition knobs. When I camp, I find myself in all sorts of terrains. With built-in leg levelers, I no longer have to look for the perfect rock to keep my eggs from slipping and sliding. With individual ignition knobs, I can light any one of the burners with a simple twist, giving it the feel and function of my indoor kitchen stove.
Adam Eakle
(
KSL Outdoors
Host and Hunting Guide) I think the best thing about the Pro X line of stoves is that the stoves have been well designed. Camp Chef has been the industry leader for over two decades. They used all the knowledge they gathered off of their other stoves to come up with one that is both durable and versatile. Pro X stoves have everything I need to cook a meal for my family or friends while hunting.