The holidays are here and the season of giving is upon us. Our 2019 Holiday Gift Guide was designed for outdoorsmen who love to cook. If your giftee has made his or her way on to the nice list this year then look no further—we've got all sorts of jingle bells (and whistles) for every Camp Chef owner. Happy haul-idays from Camp Chef!
Chapter Links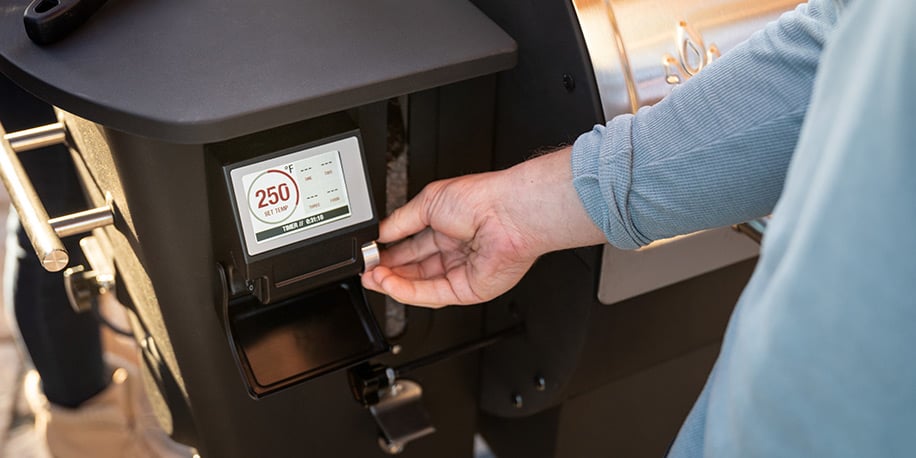 Did you make the nice list this holiday season? We sure think you did! Compatible with all Camp Chef pellet grills, the Sidekick attachment is a must for pellet grill owners, and we can promise you've never experienced a grill like this before. Without a doubt one of our most versatile products, the Sidekick fits 14-inch one burner accessories. Add a grill box, pizza oven, cast iron skillet, pots, and more! We know you hear this every year, but it really is the gift that keeps on giving.
Santa heard your cries over the years. If you're a habitual pellet grill user, then you absolutely need this extra-large 26-inch bamboo cutting board. We created the 16-inch cutting board for those large cooks. We're talking briskets, tri-tip, turkeys, and my favorite…prime rib. Slice with confidence knowing your counter is protected. Plus, we're always looking to add convenience when possible. The indented groove around the board's edge catches your cook's juices for an easy cleanup.
Shop All Pellet Grill Accessories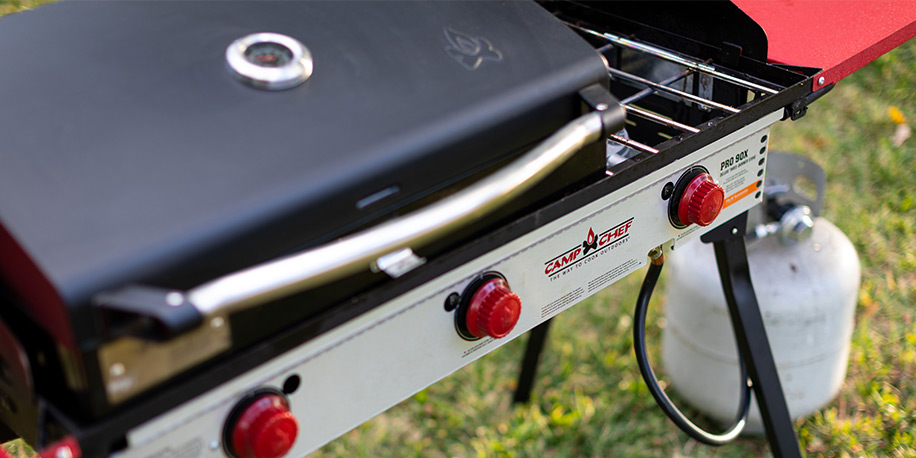 1. Two-Burner Grill Box
There's no doubt that Santa's sleigh is filled with stove system accessories like our favorite double burner grill box (14-inch or 16-inch.) Turn your simple stove into a large powerful barbeque grill that stretches over two burners. You'll be pushing out dogs and burgers like no one's business.
2. Artisan Pizza Oven
"I don't like pizza." Said no one ever. Pop a one burner Artisan Pizza Oven on your stove system (14-inch or 16-inch) and have enough room to fill your other burner(s) with other great meal add-ons. Picky eaters can rejoice because the ceramic pizza stone is great for baking too. Try baking a variety of breads, cinnamon rolls, salmon—you name it. Plus, our 14-inch fits our Sidekick pellet grill attachment—we're all about getting more for our money.
3. Two-Burner Griddle
Contrary to popular belief the griddle top surface is made from heavy-duty steel–not coal from last year's stockings. Griddle cooking might be one of the easiest most versatile accessories you can buy for your stove system. It can virtually do anything. Pancakes, sausage, and eggs for breakfast. Patty melts and soup for lunch. Burgers, brats, steak, and veggies for dinner. With two burner's worth of griddle space–the possibilities are endless. (14-inch owners shop here and 16-inch owners shop here.)
Shop All 14-inch Stove Accessories
Shop All 16-inch Stove Accessories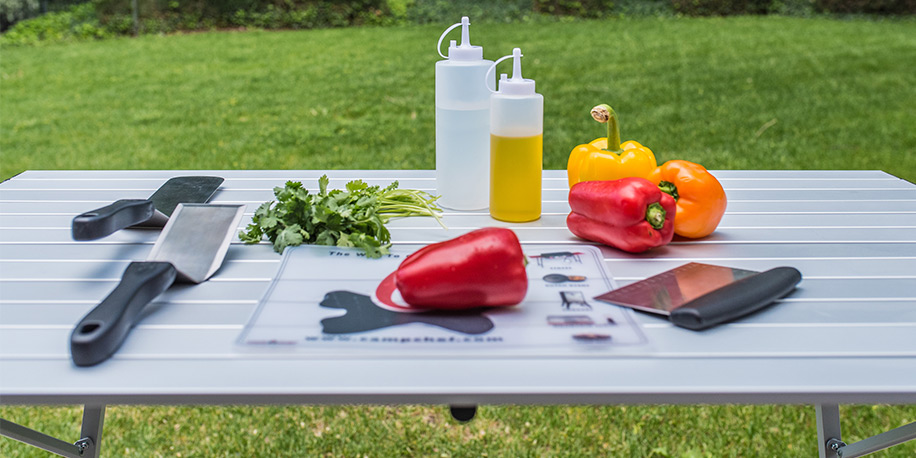 The Camp Chef elves were hard at work creating this 6-piece toolset. It features all the accessory type cutlery you'll need to successfully operate and clean your flat top grill. Kit contains a heavy-duty scraper spatula, a pancake spatula, scraper, two squeegee bottles, and a flexible cutting board. With all the extra storage space of our flat top grill line, you'll have a spot for everything.
Give the gift of bundling up this winter. If you find yourself hauling your grill inside every time trying weather strikes, then you need to invest in a grill cover. The heavy-duty 600 Denier Cordura Nylon material is weather-resistant (rain and snow included!) Plus, it's a great way to keep bugs and debris off your precious cooking surface.
Shop All Flat Top Grill Accessories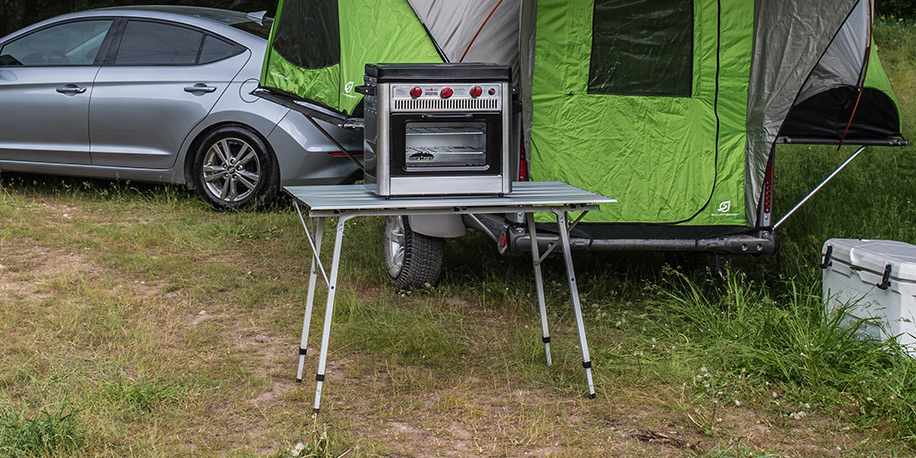 Continue your weekly pizza night tradition, no matter where you are. This pizza stone fits perfectly inside your oven. Made with cordierite ceramic fire brick, the stone absorbs excess moisture and evenly distributes heat. It's not only for pizza! The elves love a good calzone during the busy season.
2. Carry Bag
We highly recommend that all of our products be protected from the outdoor elements when not in use. The dual handle feature allows you to easily transport your camp oven from garage to truck, truck to campsite. Plus, keep the dust, critters, and weather out with the full-sized, easy access zipper.
Your Outdoor Oven requires an even surface to set up on. The Sherpa Camp Table is more than a flat surface. With four removable pouches for storage, including one waterproof liner—it's the perfect companion for any outdoor enthusiast. It's not quite as decked out as Santa's workshop, but you'll be able to create a command center and enjoy camp in organizational style!
Looking for just the basics? The Mesa Camp Table offers an easy-clean aluminum finish that conveniently rolls up into an included carry bag. Lightweight, yet sturdy enough for chopping and housing heavy dishes. Keep this table on your radar if weight capacities while camping are an issue.