You've picked out the perfect recipe, purchased the best wood pellets, pre-heated the grill, and slapped the steaks on to cook. Sounds like the perfect meal, right? It could be—or it could turn into a night of guessing games and undercooked meat. Take the mystery out of outdoor cooking and add the Wireless Thermometer to your arsenal. A stainless steel probe detects the temperature as you cook, and the remote will alert you when the desired temperature is reached. You can check the temperature from up to 100 feet away with a backlit screen, so you won't be glued to the grill all night. To make things even easier, the Wireless Thermometer offers 6 meat settings, 4 taste settings, and the option to create your own custom setting. Save the guessing games for another time, and get ready to cook to perfection.
Features
Digital LCD screen
6 meat settings
4 taste settings
Timer
LED light
Stainless steel probe
Easy-to-use remote
Built-in alarm
Specifications
Works wirelessly up to 100 feet
Probe and wire are rated for over 475 degrees
48" wire attached from probe to receiver base
Elapsed cooking timer
Fully adjustable heat monitor
Downloads

LTRM Instruction Manual
REVIEWS
Wireless Thermometer
is rated out of
5
by
13
.
Rated

5

out of

5
by
Anonymous
from
Works great for the price!
This is a no frills remote thermometer that accurately reports the internal temp of whatever cut of meat that you wish to cook. I have used this model for about a year on countless cooks and I can say that it was one of the best investments I've ever made as it performs it's task well and came at a good price. I have even used it to accurately measure the temperature of my pit smoker since the dial thermometers that are usually found on them are notoriously inaccurate. For truely great BBQ it is imperative that the proper temperature is maintained first in the pit and then the proper internal temp is reached in the meat itself and this simple tool really helps to meet those goals. There are other more expensive units out there but this one does the trick and won't kill you at the cash register!
Date published: 2016-01-06
Rated

1

out of

5
by
nansir
from
Don't waste your $
Did not work from opening the package to start using thermometer. Nothing simple about the return so I'm stuck with a failed thermometer that cost me over $30.....save your money. Camp chef was not helpful at all with this issue!
Date published: 2018-01-26
Rated

1

out of

5
by
Franklin60
from
Look Elsewhere
Unit worked great for maybe six months and then I turned it on sitting on the counter and got a reading of 124 degrees. Waste of money for no longer than the unit worked.
Date published: 2018-02-05
Rated

1

out of

5
by
DayBreak
from
Utter garbage
Purchased in winter for use in spring. Does not work at all. Changed batteries, read instructions, yet has not worked once. Will not connect wireless and show temp. Also - since I bought it months before I used it, the return window closed and I cannot get my money back. DO NOT PURCHASE THIS BAD PRODUCT
Date published: 2018-03-10
Rated

1

out of

5
by
Upset
from
Works at about 2 inches
I got this as a Christmas gift and have used it twice. It would not register temperature change unless the handheld was placed right next to the transmitter. It also has a different end than the camp chef smoker so you can not hook up the probe directly. Absolutely one of my worst gifts ever.
Date published: 2019-01-21
Rated

2

out of

5
by
JBUS
from
Worked ok until it didn't
I changed the batteries today after not using it for about a year and the temp reading while sitting on the counter is 180 F in comparison to an instant probe I have which is reading 65 F, this is a waste of money and now on the big day I need to head to the store to get a new one.
Date published: 2018-12-31
Rated

5

out of

5
by
Mtn Bikin
from
Must have for Pellet Smokers.
Love this product. Sit in my chair and watch a movie and this tells me when my food is done. Very happy, have recommended it to many of my friends who have smokers.
Date published: 2018-02-14
Rated

1

out of

5
by
QASteve
from
Doesn't Last Long
First problem was it wouldn't pick up the signal from the base and probe. I learned to tip the base on it's side and then the handheld got the signal. OK fine, it now works. But wait, after about a dozen uses, the temp reading is now way off. Just setting on the counter it reads 130 degrees. This thing is now useless. I expected it to last at least a little longer. A piece of junk for the price.
Date published: 2019-05-11
RELATED BLOG POSTS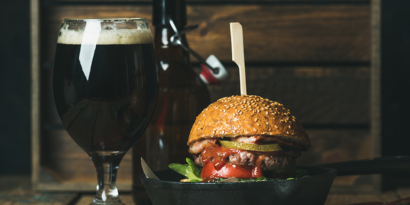 (2 Comments)
(2 Comments)
(2 Comments)