Protect and carry your Outdoor Camp Oven with this full zip padded carry bag. Outdoor Camp Oven Carry Bag is just what you need when you hit the road to your favorite camping spot. The Outdoor Camp Oven is great for emergency preparedness and this Carry Bag is a great way to store your oven so it's ready to go when needed.
Features
Weather-resistant liner
Full zip for easy insertion of oven
Padded bag helps protect your camp oven
2 easy carry handles
Large EZ glide zipper
Fitment
COVEN
COVEND
COVENT
COVENG
Specifications
Dimensions: 12.5 in. L x 21 in. W 20 in. H
Material: Black 600 Denier
REVIEWS
Camp Oven Carry Bag
is rated out of
5
by
35
.
Rated

4

out of

5
by
Diesel Greg
from
Great bag but could use some improvement
We use the bag for traveling with our oven. We did find that there is no place to store a gas bottle or two with the bag. Also, the front AND top should zip DOWN TOGETHER, as opposed to the present way the FRONT ONLY zips open UP. This would make removal and insertion of the oven MUCH easier. The easiest way to insert/remove the oven with the current design is to lay the bag and oven on their backs, though this is a bit awkward. Other than these two items the bag is VERY high quality and sturdy. Also, adding a non slip bottom to the bag would prevent the bag and oven from sliding around on the linoleum floor of our travel trailer when in motion!
Date published: 2016-01-06
Rated

3

out of

5
by
Volleyball Dad
from
"Good features, bad features"
I purchased the Camp Chef Oven Carry Bag to transport my new Camp Chef Oven to my daughter's volleyball tournaments. I wanted to protect the oven during transport. The bag allows for one person to easily carry the oven for long distances. Unfortunately, due to the bag's design (front loading) it is virtually impossible to insert the oven into the bag by yourself. You need a second set of hands to secure the bag in the "open" position while inserting. It would be easier if you could simply lower the oven into the bag and then zip the top.
Date published: 2016-01-06
Rated

5

out of

5
by
Ronster
from
IT FIT!
I was worried that my COVEN-G wouldn't fit in the cover as per the dimensions as it was described.My unit is 3 inches higher but it did fit nicely. I know it will do a good job of protecting my camp oven from scratches as well as keeping everything in one place.
Date published: 2018-02-20
Rated

5

out of

5
by
Hank the Pointer
from
Fantastic Carrying Bag
This carry bag makes it so easy to move my camp oven, which I use on fishing, camping and hunting trips.
Date published: 2016-01-06
Rated

4

out of

5
by
Carlos
from
Perfect Fit
Perfect fit for Chef Camp oven, Even enough space to keep the included griddle in the box. on top of the oven Although the zipper could be located in a better spot like around the top, its really not a big deal to place the oven in the bag. Just tip it on its from feet and work it in the bag. This is a must have for the Camp Chef Oven if you want to take care of it to have it for a long time and prevent damage during transport and storage
Date published: 2016-05-04
Rated

3

out of

5
by
Hokie
from
Carry Bag Design
The bag opens in the front, and thus you have to lay the stove into the bag, on it's back, which is kind of awkward. It would be nice if the bag zipped open to the top (so front and top were unzipped) to allow you to lower the stove in place by the handles._x000D_ Other than that, it's a nice bag with space for a few accessories, and nice carrying handles.
Date published: 2016-01-06
Rated

4

out of

5
by
Pat
from
Fit easy - seems well constructed
It was easy to put the oven in it without any struggle. It seems strong enough to carry the weight of the oven and seems to provide pretty good padding against everyday knocks. I agree that it would be useful to have an outside pouch, perhaps with a zipper, for the propane tubing, etc, I'd like a color choice -- red? Blue? Green?
Date published: 2016-01-06
Rated

4

out of

5
by
Sunday Lake duo
from
A fine product
This bag will protect the stove very well for travel and storage. Good quality bag. Fits well, tho a bit snug when new. _x000D_ One nice improvement would be to add a pocket or two on end of bag exterior to hold a 16 oz propane cylinder and or the connector hose for a 5 gallon propane tank. Would keep all in one neat package.
Date published: 2016-01-06
RELATED BLOG POSTS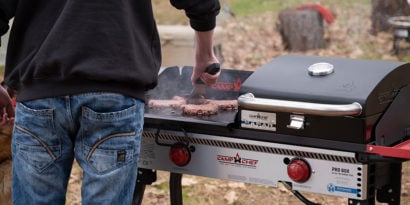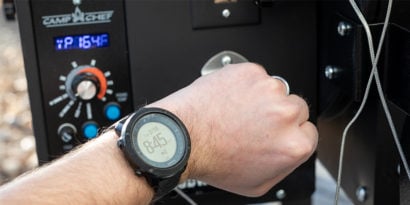 (2 Comments)