Whether you're enjoying mother nature's finest views or getting ready for the big game at the tailgate party, you should never be deprived of tasteful food. Camp Chef's rugged two burner Explorer stove gives you the ability to prepare anything from bacon and eggs to grilled salmon or even Dutch oven dinners all on one stove. This is the go anywhere, do anything type of propane stove.
Being one of Camp Chef's 14" cooking systems, the Explorer is very versatile and can be equipped with many different Camp Chef accessories, from the Professional Grill Box to the Italia Artisan Pizza Oven. This is also a perfect stove for emergency preparedness because of its portability and can provide for 15 hours of cooking time on one 20 lb propane tank (not included).
Multimedia
Features
The Explorer stove is one of our most rugged in design and portable stoves. That's why we want to brag a little and show off our most recent award from Fish Alaska Magazine.
Two 30,000 BTU cast-aluminum burners give you the power to cook whatever is on your menu
Three sided windscreen helps protect flame from wind
Fully adjustable heat-control dials give you more control over heat
Removable/Adjustable legs for storage/portability and setup on uneven ground
Durable, rugged design built to last
Regulator and 3 ft. hose included for use with a bulk propane tank
Out of the box ready to cook in seconds
Emergency preparedness recommended
Specifications
Cooking Dimensions: 14" x 32"
Cooking Area: 448 sq. in.
Cooking Height: 29"
Total Output: 60,000 BTU
Weight: 36 lbs.
Warranty: One Year
Downloads

EX60LW Instruction Manual

Natural Gas Conversion Guide
RELATED BLOG POSTS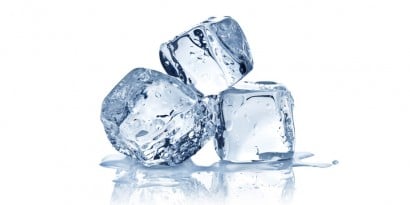 Getting the most from your Camp Chef cooler is a must. What you don't want to have happen is be two days in to your trip and have warm drinks and spoiled food. These tips will help prevent both and make your trip a bit more worry-free and enjoyable.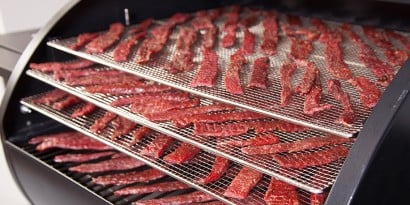 This was the final of four sets like this. Pushing 50 pounds of grind (pick up a bag of dog food next time your in a store and you'll get it). A combination of mostly elk, deer then a bit of antelope, strung out with four pounds of bacon ends mixed in.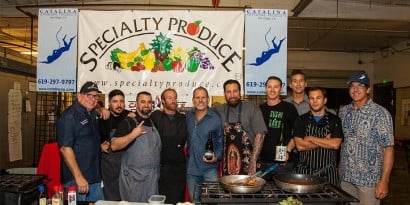 Several times a year, Tommy Gomes of Catalina Offshore Products gets some of the best chefs of the region, and puts on an event like none other.