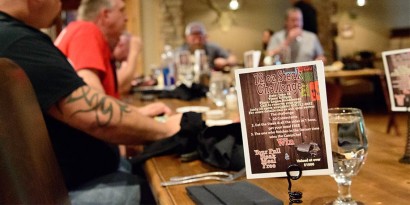 72 ounces of steak. Side of salad and mashed potatoes. Three fried shrimp. And a roll. With one hour, the challenge has been set to eat ALL of that. At The Logan Steakhouse 8 men took on this challenge. Six of them finished in an hour, two attempted but didn't make the cut.
As for the winner, Joe LaRue, he finished in an astonishing 15 minutes and 30 seconds. When the time started, all traditional dinner etiquette went out the window. Within minutes half of his steak was gone. It wasn't long before the steak was gone, and he started devouring the side dishes. Listening to a variety of music spanning hard rock to techno, Joe kept his cool.
Of the remaining five challengers, it took another 30 minutes before anyone finished the meal. From there it was a fight to not only see who would finish next...but who would finish under the time cap. Those who did finish, not only earned the right of saying they finished the first ever steak eating challenge at Logan Steakhouse, but they also earned a free meal. Joe, not only earned a free meal, but also won a SmokePro Stainless DLX Pellet Grill, BBQ Sear Box, and 3 bags of Competition Blend BBQ Pellets.
Think you can handle the challenge? Call the Logan Steakhouse and schedule your challenge.